Odyssey Expeditionary School
RACER CHALLENGE
In 2017, we had a blast working with staff and students of Denver's Odyssey School on a multi-phased programs exploring engineering through racer challenges. We trained 4th & 5th grade teachers to explore mechanical engineering and forces and motion independently with Blow & Go Racers. As students skills built, they then designed Rubberband Racers with more complex engineering designs including prototyping and 3-D printed wheels. And, we wrapped-up the program with a 2-day workshop for Motor Racers - using the engineering concepts learned while exploring circuits, soldering, motors and switches. Fun learning was had by all!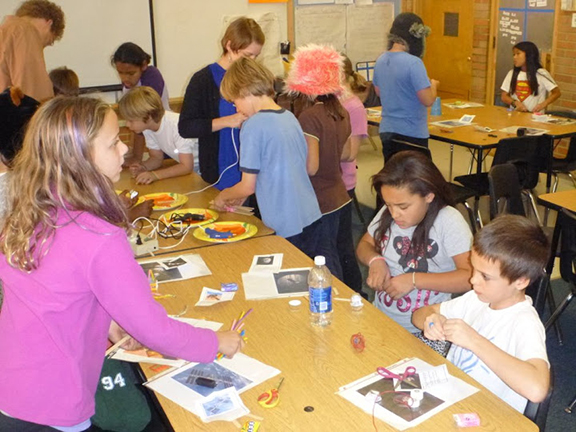 ALL SYSTEMS GO!
In 2012, the Mizel Museum sponsored us to design a unique curriculum for the Odyssey School to augment their expeditions. Celestial Bodies: The Cosmos & You! engaged students in a robust investigation uniting space exploration, engineering and biology. Odyssey crews explored the connections between living, planetary and robotic systems. Crews produced a large solar system sculpture featuring planets, moons and small bodies and created mini NASA missions to populate their installation. From the hanging of the first Sputnik model, student's vision of their place in space was transformed - space is indeed a human endeavor. This workshop was an incubator for our All Systems Go program - connecting human, planetary and engineering systems.
ENERGY BALANCE MOBILES
We returned to Odyssey in 2013 for an exciting investigation of energy and sustainability through kinetic sculpture. Students analyzed statistical data about global energy production and consumption patterns. Groups worked to synthesize their discoveries through the creation of Energy Balance Mobiles. The mobiles were visual representations of statistical data and we're featured in a family night exhibition. Crews also made video logs of their process and discoveries to teach others about their countries of interest.
Both residencies at Odyssey were made possible with generous support of the Mizel Museum and the Scientific and Cultural Facilities District of Denver (SCFD).