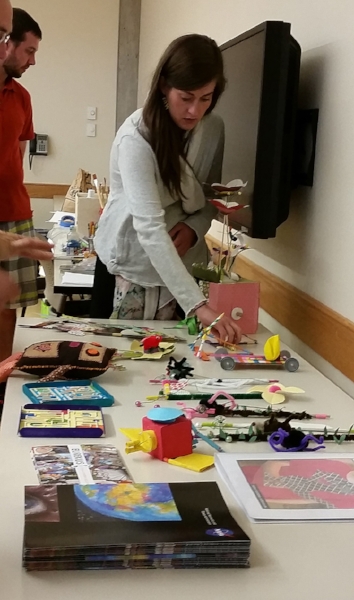 STEM & AESTHETICS CLASS 2014 & 2015
Monica Aiello had a blast visiting with graduate students during Professor Donna Goodwin's STEM & Aesthetics class at Denver University's Morgridge College of Education. The group explored how arts-integration can empower meaningful STEM learning and how STEM can inspire creativity and curiosity. These interactive sessions focused on both pedagogical concerns and real-world implementation for transformative STEAM practice. After investigating best practices and new paradigms, DU students had a blast playing with samples of student work while engaging in STEAM hands-on during a NASA's Art & the Cosmic Connection mini-PD.
STEM & AESTHETICS CLASS 2016
In 2016, Monica returned to Dr. Goodwin's class to present a new Earth edition of NASA's Art & the Cosmic Connection. During the Goldilocks Planet Project, graduate students explored how art concepts can galvanize learning relating to hydrology topics. Learners analyzed NASA remote sensing images and used the Elements of Art as "clues" to become "water detectives." Line, shape, color, value and texture were used to study the forms and states of water on Earth. They investigated the crucial role of fresh water on our planet from a scientific and societal perspective. After putting concepts into practice through a fun session of pastel drawing, students explored our other STEAM and Maker programs in our Know Your H2O program to develop ideas to inspire deeper learning.