PINEDALE MIDDLE SCHOOL
In May 2016-2018, Eurekus co-founders Tyler and Monica had a blast in beautiful Wyoming for week-long residencies at Pinedale Middle School. These school-wide programs activated the school's STEM Lab with teacher extraordinare, Clare Haynie. 6th-8th grade students explored science and engineering through a host of exciting art and Maker projects and teachers gained valuable STEAM and Maker Ed training. Supported by the Pinedale Fine Arts Council & Tesoro.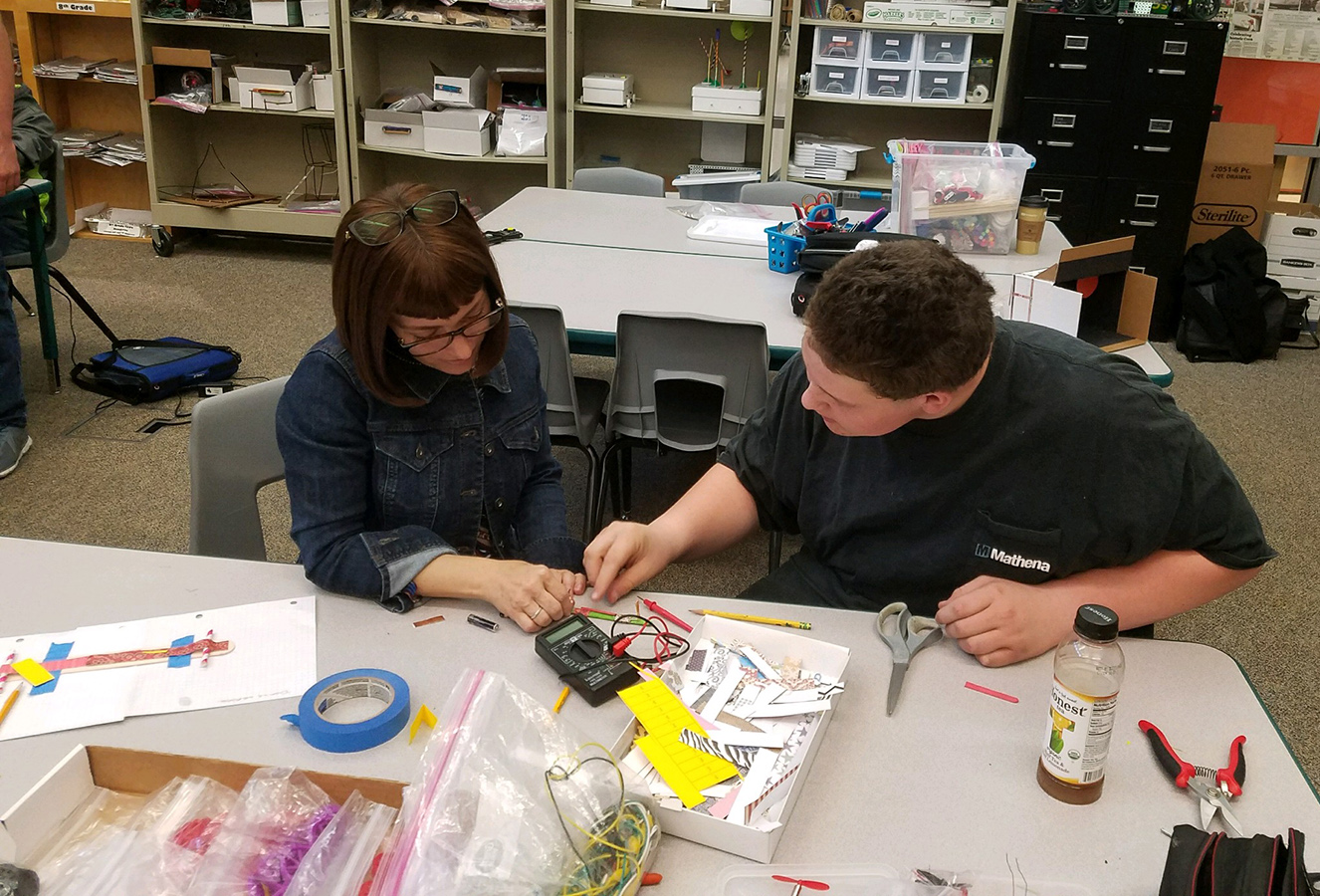 In May, we headed back to Pinedale for our 3rd annual residency at the middle school. 6th-8th grade students had a blast in STEAM Lab exploring with creative design and engineering challenges. From NASA's rovers and motorized racers to tech-enhanced dioramas, we were blown away by their imaginative approaches and hard work. Huge thanks to their wonderful teacher Clare Haynie and the Pinedale Fine Arts Council.
2017 DESIGN & ENGINEERING
NASA SHOEBOX ROVER
6th graders explored simple and complex machines with the robust program Simple Machines Shoebox Rovers. Students designed and engineered mechanical systems - from pulleys to drills - in dynamic.
MOTOR RACERS
7th graders designed and engineered mini racers. They built battery boxes and tape circuits to power mini-propeller motor while learning tons about the design process. Even the principal and teachers joined in to make and race!
SKITTER CRITTERS
8th graders explored more complex electronics to design vibrating bots. Using capacitors, photo transistors and vibrating motors, students created light reacting creatures. They even made a customized battery charging station for each!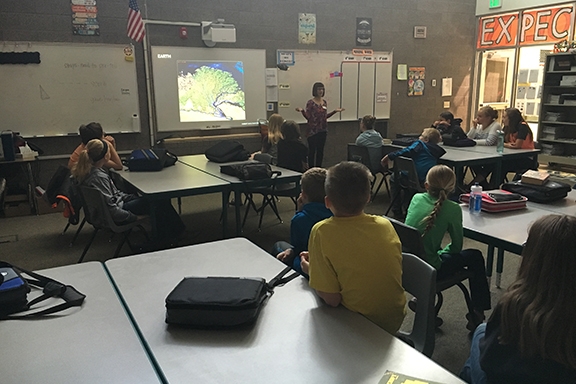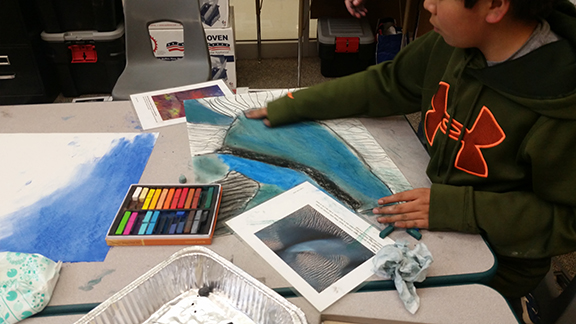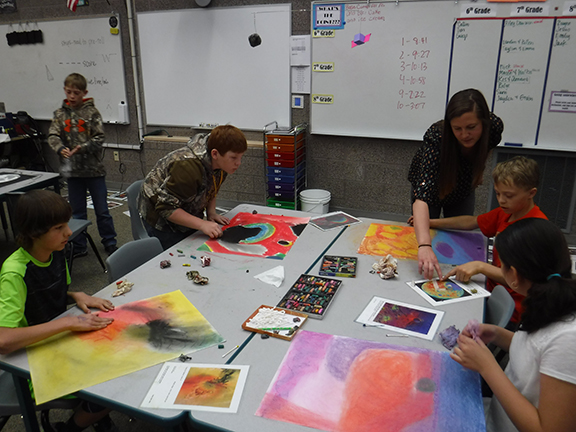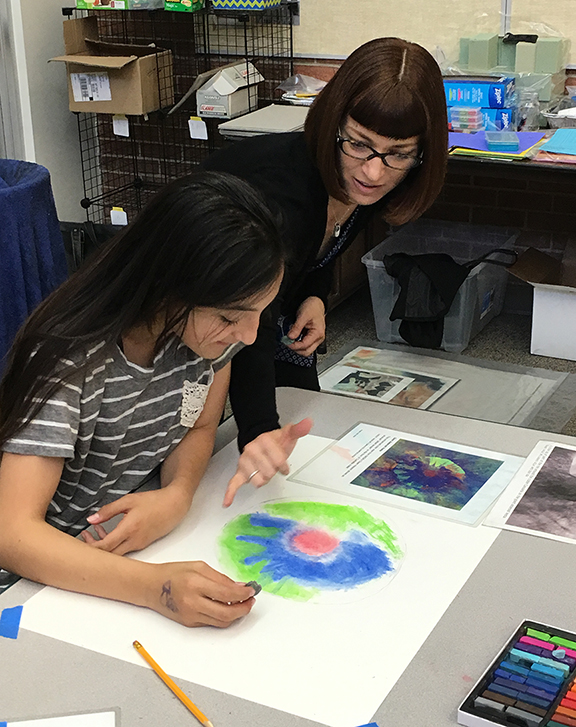 ART & THE COSMIC CONNECTION
6th graders explored our solar system with NASA's Art & The Cosmic Connection. Lines, Shapes, Color, Value and Texture became "clues" for deciphering geologic stories on planets and small bodies. Students analyzed NASA images and honed their observational skills through exciting art-making.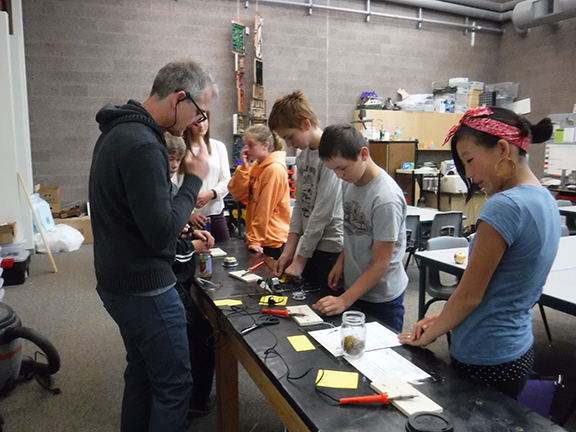 OSIRIS-REx MISSION MOBILES
7th graders designed and engineered motorized mission mobiles inspired by NASA's new asteroid sample return mission, OSIRIS-REx. From mechanical engineering to electronics, students worked in teams paralleling real NASA missions to investigate and explore together.
INSIGHT TECH LANDER
8th graders investigated more complex mechanical engineering and electronics. They built a kinetic scale model of NASA's new Mars Lander InSight and designed working mechanical systems. They also added a programmable circuit and designed lighting systems using LEDs.